Mattresses can accumulate allergens, dust mites and germs in as little as 6 months. These microscopic contaminants, which can make up close to 25% of the weight of your mattress, can contribute to a host of allergic reactions and health problems such as asthma, eczema, bronchitis and more. Carpet Cleaning Authority's non-toxic hypoallergenic dry mattress cleaning service will help ensure your mattress is cleaner and that you are healthier.
Our skilled technicians will begin our professional mattress cleaning service by vacuuming your mattress with our highly efficient HEPA filter vacuum cleaner which removes 99.9% of dust, dust mites and other allergens. After this, they will pre-spray your mattress with a non-toxic biodegradable anti-allergen solution. This is followed by our eco-friendly hypo-allergenic anti allergen rinse. Both of these are specifically designed for safe use around individuals who suffer from asthma, allergens or chemical sensitivities. They will then apply our powerful non-toxic biodegradable allergy relief treatment, which is derived from naturally occurring extracts found in certain fruit and vegetable seeds. Finally, they use a turbo dryer to speed up the drying process.
Professional Mattress Cleaning in Sydney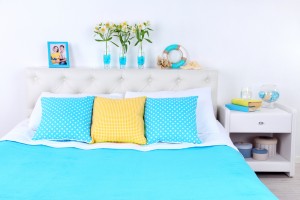 Our Sydney based dry mattress cleaning process not only removes dust and germs but also kills viruses and neutralises dust mites and their waste which can be the cause of many allergies.
So if you want to improve your sleep, reduce the severity and frequency of allergies, and extend the life of your mattress, contact us to find out more about our professional dry mattress cleaning service in Sydney, or book an appointment online.
If you don't see a noticeable improvement in your allergy symptoms within 3 days, we will refund the portion of our charges for application of our allergy relief treatment.